AVH-1550NEX
Multimedia DVD Receiver with 6.2" WVGA Display, Apple CarPlay™,
Built-in Bluetooth®, SiriusXM-Ready™, iDataLink® Maestro™, and Remote Control Included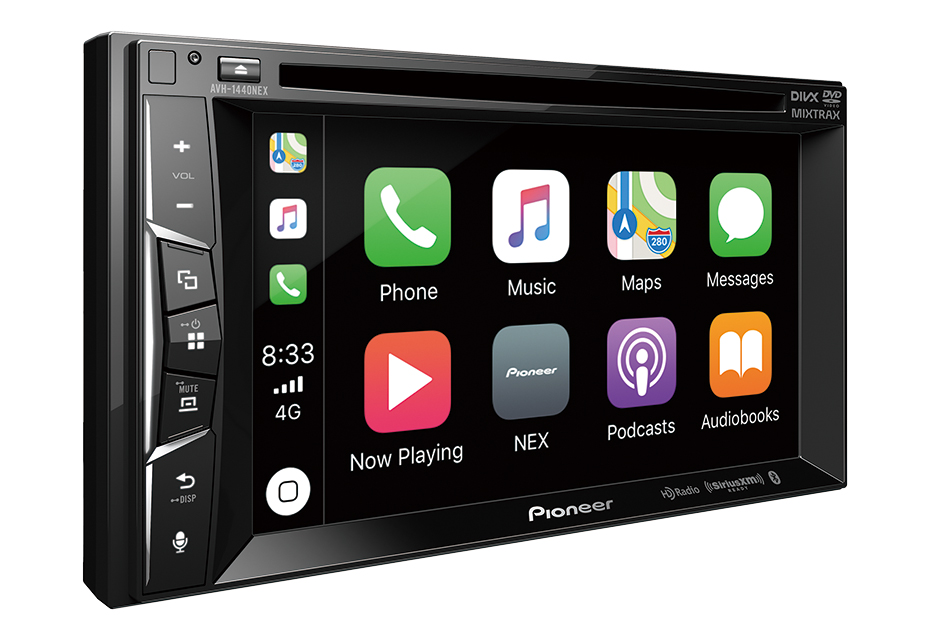 AppRadio Mode + is compatible with Waze - a social GPS driving / navigation app that offers maps, real-time traffic, and various other Information.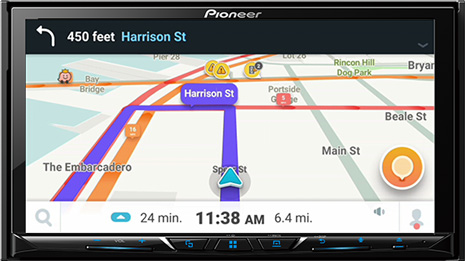 Refined user interface for simple and easy access to your media, resulting in a smooth uncomplicated user experience.
New Graphic User Interface
With the New User Interface, your operation becomes much more simple and easy. Simple device switching for Bluetooth, wide customizability of AV and device sources, responsive user interface, etc.
Advanced AppRadio Mode
AppRadio Mode + is compatible with Video App Playback
The upgraded compatibility of New NEX Series, AppRadio Mode+ allows for both music and video playback.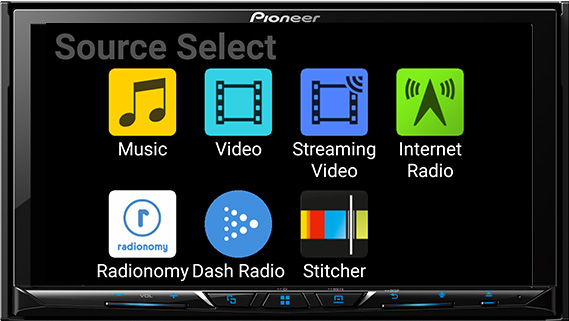 AVH-1550NEX Main Features
• Apple CarPlay™
• MIXTRAX®
• 6.2" WVGA Touch Panel Display with LED Backlight
• Clear Resistive Touchscreen
• Multi-Language Display (Menu/ID3 Tag)
• Color Customization (5-Display Colors and 112-Key Colors)
• AppRadio Mode +
• AppRadioLIVE App compatible
• Direct Control for iPod®/iPhone®
• iPod®/iPhone® Compatibility
• Android™ Compatibility
• Built-in Bluetooth®
• Siri® Eyes Free Compatible
• Works with Pandora®
• Spotify®
• SiriusXM-Ready™
• Built-in HD Radio™
• AUX Input (Audio/Video)
• RGB Input
• DVD Player
• CD Player
• MP3/WMA/iTunes® AAC/MPEG-1,2,4/Divx Playback from DVD/CD Device
• MP3/WMA/iTunes® AAC/WAV/FLAC Playback from USB Device
• H.264/MKV/FLV/MPEG-4/JPEG Playback from USB Device
• MOSFET 50 W x 4
• Hi-Volt Preouts x 3 (4 V)
• 13-Band Graphic EQ
• Auto EQ (CD-MC20 Required)
• Auto Time Alignment (CD-MC20 Required)
• Dual Camera Input
• Back-Up Camera Ready
• iDatalink® Maestro™
• Steering Wheel Control Function Expansion
• Wired Remote Input
• Display Off Mode
• RDS
• New Graphic User Interface
• Premium Sound Quality
• Power Off Mode
PICTURES WITH ACCESSORIES (SPEAKERS, CAMERA ETC.) FOR ILLUSTRATION ONLY, AND NOT INCLUDED IN THE PRICE