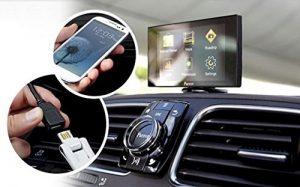 Years ago, fancy features inside the car were limited to luxury cars and limousines. Today, it's very different – what was once considered a fancy feature is now standard. From music, to navigation, to Bluetooth®, to security systems, most late model vehicles are all stocked up.
The good news is that many vehicle models can now be installed with the latest electronics long after the vehicle has left the dealer. With Car Systems Installation, in-house specialists can offer countless product options to satisfy even the most discriminating of technology enthusiasts.
While every vehicle will vary with technology, there are a few features your next car should have to make the driving experience safer, more comfortable, and more entertaining.
Advanced iPod Interface
Car Systems Installation offers the most advanced iPod® interfaces on the market. These systems allow drivers to connect, control, and play an iPod® using the factory-installed radio. The iPod interface allows high quality music to flow through the car's speakers, and allows for control options right from the radio. Best of all, with an iPhone® connected, music can be streamed directly, including streaming from popular Internet sites. Along with numerous control functions, the iPod® interface also charges the iPod® while connected to the system.
Bluetooth® Car Integration
From basic to sophisticated, Car Systems Installation has Bluetooth® integration systems for every need. Mobile phone information is clearly displayed on an LCD screen, allowing the driver to view incoming calls, phonebook, and even last number called. With the voice recognition option, in-car calls and connections can be made safely, and completely "hands free". The more sophisticated the unit, the more features are available. For example, the optional Android app will automatically upgrade software with any supported Android device.
Remote Starter Bypass
Today, remote starter bypass modules can be installed without over-extensive wire cutting, and without hacking into existing computerized vehicle systems. Still, this is a high-tech installation that requires the type of expertise and experience offered by the specialists at Car Systems Installation. While module features will differ from one vehicle to another, some of the features are universal: the engine tachometer; hood pin trigger; trunk trigger; door pin trigger; automatic door locks; and factory alarm control. Note: this is not a DIY installation.
Smart Phone Starters
Smart phone starters allow drivers a number of great electronic features – remotely starting the vehicle; notification of alarm triggers; and entering the vehicle with the mobile phone. There is no need for any additional transmitters, since everything is activated with the smart phone. In fact, some options offer sliding door control, heated seat control, and even vehicle security. With so many high-tech features, smart phone starters are a welcome installation for vehicle models that lack the features. It's the ideal for both families and business owners.
Why Choose Car Systems Installation
With some of the best products on the market, and quality installations, CSI is committed to customer satisfaction with every install. Extended hours are available when required, with appointment times that best satisfy the customer. To book a custom install, call 416.901.5812 or visit the company website at www.carsystemsinstallation.ca .