When the weather cools down, and car seats get uncomfortable, there's nothing like a heated car seat to warm up the body. Turning the heat on is a great start, but sitting down in a cold seat at zero degrees Celsius is not a good feeling. Today, heated car seats are not just for luxury cars, and heated seat installation is not overly expensive. It's worth the money and the benefits are many.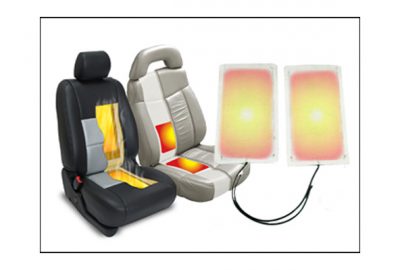 Needless to say, the main benefit of heated car seats is the additional warmth. Even with a decent heating system, the extra touch of warmth is very welcome, especially in the dead of winter. The great thing, of course, is that heated car seats focus on warming up the driver's rear and back (not the mention the passenger). Best of all, seats warm up much quicker than the rest of the car.
Heated seat installation for cars, trucks and vans
With heated seats, every winter drive is comfortable and relaxing. And with professional heated seat installation, this luxury feature is made easily available even for older vehicles. At Car Systems Installation, heated seat installation is offered for most cars, trucks, SUVs, and vans.
quick heat-up time (less than 2 minutes)
carbon-fiber backrest and bottom cushion
final install is trimmed to fit standard seats
complete dual temperature control system
illuminated colour switch for hi-lo setting
heating pads are invisible after the install
can be wired to remote starter for turn-on
For those who live in a region where the winter lasts from November to April, the luxury of a heated car seat will pay itself off in one season. And once installed, there's no going back.
Heated seat installation by the professionals at Car Systems Installation
Whether it's heated seats, or a fancy navigation system, a professional installation is the way to go. While the DIY approach to any installation will save money in the short term, professionals will guarantee performance. The thing is, even the slightest slip-up with a DIY installation can create all kinds of problems, not to mention affecting the vehicle warranty.
At Car Systems Installation, in-house technicians are up-to-date with the latest products on the market and with all makes and models. CSI can recommend a heated seat installation that will best suit the vehicle and best suit the budget. With competitive pricing and excellent service, the team at CSI is always focused on ensuring complete customer satisfaction.
CSI offers flexible appointment times to accommodate customer needs, and extended hours when required. And with everything under one roof, customers can rely on the team at CSI for the best brand names on the market and the highest standard of workmanship. To book a custom install, call CSI directly at 416.901.5812 to speak with one of the in-house experts.
To learn more about the wide range of installations available at CSI, visit the company website at www.carsystemsinstallation.ca. There's something for every car owner – from car alarms, to remote starters, to sound systems, to GPS navigation.