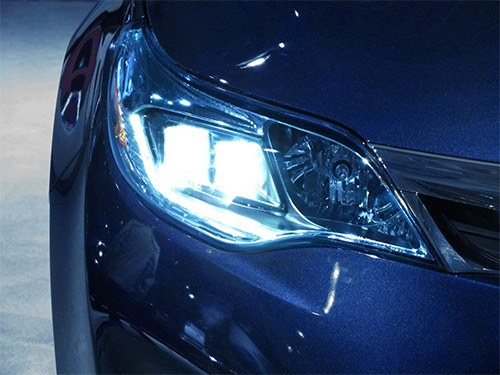 The benefits of HID headlights
HID headlights are high intensity bulbs that allow an electrical charge to interact with xenon gas inside the light bulb. Also known as xenon headlights, they produce a very bright light that is twice as bright as a conventional halogen lamp. HID will illuminate 90 square meters, while halogen will illuminate 30 square meters. Clearly, there is improved visibility at night and in poor weather conditions. HID headlights also use less energy than halogen and last longer – in fact, almost 5 times longer. While HID headlights are on the expensive side, they do provide far more benefits and much better performance.
The benefits of LED headlights
LED headlights are comparatively new to the automotive industry, but have been gaining more popularity over the years. LED lamps are essentially electrical conductors that allow light to be emitted when activated. Because the lamp is either on or off, the bulb doesn't need warming up. A big technical advantage with an LED headlight is very few parts. The headlight itself can be small, and can endure even vigorous vibration while driving. LED lamps also consume far less energy than halogen and long lasting. From an aesthetic perspective, LED bulbs are available in a variety of colours (for some, a nice touch).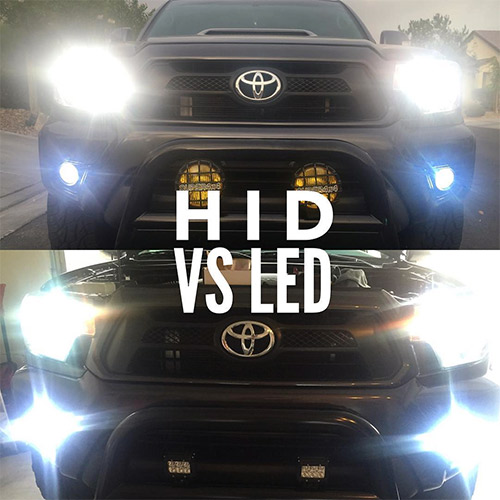 Choosing between HID and LED
Mainly because of the technology, LED headlights are less expensive. They do not need a special ballast feature; they come in a variety of colours; and they are ideal when replacing turn signals or reverse lights. However, when it comes to an enhanced field of vision, the HID lamps are the better option. Naturally, this would include front headlights, specialty fog lights, and stand-alone spotlights. For the most part, conventional halogen lamps still dominate the market, but both HID and LED are gaining popularity.
From a technical perspective, the LED headlamps are better with "light return" from road signs and other night markers. HID lamps, on the other hand, will better illuminate the road ahead, as well as the side of the road. Both lamps provide a larger light pattern compared with halogen headlights. When it comes to price, it's important to consider cost and value together. Whether HID or LED, comparisons should be made based on performance and longevity. Each will offer different pros and cons for drivers.
---
Expert installation at Car Systems Installation
Whatever the headlight, it pays to have an expert installation. At Car Systems Installation, in-house technicians have extensive product knowledge, with experience to recommend what's best. Above all, the priority at CSI is to provide 100% customer satisfaction.
Why it's a good idea to choose Car Systems Installation?
CSI are leaders in vehicle electronics, with industry knowledge and experience that is unrivalled. In-house product inventory is extensive and surpasses most competitors in the business. As for pricing, CSI is very competitive, providing excellent value on systems large and small.
For CSI, customer service continues to be a top priority with every installation. Appointment times allow for flexibility, and customers can rest assured of the most professional attention.
With the best products on the market, and high quality installation work, CSI technicians go above and beyond – the bottom line is to deliver 100% satisfaction.
The CSI team is committed to the highest level of service excellence, offering extended hours where required, and appointment times that best satisfy customer need.